Price search results for Mama Mio Bloomin Lovely Pamper Pack Worth 131.00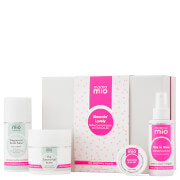 Mama Mio Bloomin' Lovely Pamper Pack (Worth $131.00)
€

Subscribe
Discover Mama Mio's Bloomin' Lovely Gift Set, the perfect pregnancy gift for every mama-to-be. With a pregnancy essential to cater...read more
Discover Mama Mio's Bloomin' Lovely Gift Set, the perfect pregnancy gift for every mama-to-be. With a pregnancy essential to cater to her every need, this gift will make any expectant mama feel Bloomin' Lovely as her bump blossoms! Our gift set is both pregnancy and breastfeeding safe and jam-packed with amazing ingredients chosen to nourish and pamper pregnant skin. From top-to-toe and boobs to bump, we've got you covered! What's in the box? The Tummy Rub Butter 120g - our award-winning stretch mark prevention cream helps protect pregnant skin from stretch marks. This Omega-packed blend of organic oils in an organic Shea Butter base keeps skin strong, healthy and nourished. Way To Glow 100ml - our cooling and uplifting facial mist plumps, moisturizes and clarifies tired and overheated skin. Generously spritz for instant glow on the go and refreshing relief. Pregnancy Boob Tube 100ml - the skin on your boobs and décolleté is fragile and lacks elasticity. Our Pregnancy Boob Tube is rich in vital Omegas to moisturize, nourish and soothe new-mama boobs protecting them from rapid cup size changes. Superstar in a Jar 15g - formulated with Baobab Oil for superb skin nourishment, Superstar in a Jar soothes and protects skin that needs a little extra love and attention. Apply to lips, elbows, knees, hands, nails, heels and even on your scalp. It can even be used as as a massage balm or cleanser - the uses are never-ending! We've made all of our formulas even cleaner and safer, with our evolved No Nasties policy. Our products are free from parabens, petrolatum, colourants, xenoestrogens, PEGs, glycols and pthalates. If skincare safety is your concern, rest assured you are in safe hands with mama mio.
Recommended Retail Price €66.97
Mio Skincare is a global supplier based in the USA. Prices quoted on Shops in Ireland are converted from USD in to Euros at the current ECB excange rates, therefore, prices on the Mio Skincare website may vary slightly due to the exchange rate used by them.
EAN: 5060102602132
Matched Items