Price search results for Mama Mio Breastfeeding Duo Worth 61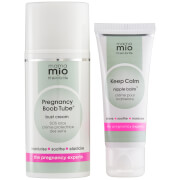 Mama Mio Breastfeeding Duo (Worth $61)
€

Subscribe
Soothe sensitivity with the Mama Mio Breastfeeding Duo. An essential for breastfeeding mothers, the set contains a duo of products...read more
Soothe sensitivity with the Mama Mio Breastfeeding Duo. An essential for breastfeeding mothers, the set contains a duo of products designed to care for the skin at nipples and breasts, which are prone to soreness and sensitivity during pregnancy and breastfeeding. Free from parabens, petrolatum, synthetic fragrance and colourants, xenoestrogens, PEGs, phthalates and glycols. If skincare safety is your concern, rest assured you are in safe hands with Mama Mio. The Set Contains: Pregnancy Boob Tube (100ml) The Pregnancy Boob Tube bust cream soothes skin to leave it with a healthy glow. Enriched with organic Omega oils, Boob Tube hydrates by providing antioxidants to strengthen and help reduce the appearance of wrinkles. Specially formulated with unique Green Cabbage Leaf extract, its new and improved formula makes it pregnancy and breastfeeding safe. Keep Calm Nipple Balm (30ml) Soothe and protect sensitive nipples with Keep Calm Nipple Balm. Its gentle yet powerful formula contains a combination of organic Coconut, Olive oils and Shea butter to help sore or cracked nipples. The versatile balm can also be used on lips, elbows and areas of dry skin. Medical grade Lanolin keeps breasts full of moisture, which is essential during breastfeeding when nipples are constantly wet and dry. Experience hydrated skin that is less painful, allowing you to focus on bonding with your little one.
Boob Tube: Apply from below breasts up to the neck daily throughout pregnancy.Nipple Balm: Apply to sore nipples when required. You do not need to remove before breastfeeding.
Recommended Retail Price €46.62
Mio Skincare is a global supplier based in the USA. Prices quoted on Shops in Ireland are converted from USD in to Euros at the current ECB excange rates, therefore, prices on the Mio Skincare website may vary slightly due to the exchange rate used by them.
Matched Items