Price search results for Mama Mio Goodbye Stretch Marks Stretch Mark Minimiser 100ml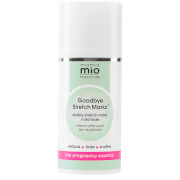 Mama Mio Goodbye Stretch Marks Stretch Mark Minimiser (100ml)
€

Subscribe
Pregnancy experts Mama Mio present the Goodbye Stretch Marks Stretch Mark Minimiser, a lightweight cream specially formulated to improve...read more
Pregnancy experts Mama Mio present the Goodbye Stretch Marks Stretch Mark Minimiser, a lightweight cream specially formulated to improve the appearance of uneven skin. Five powerful ingredients are combined with peptides, fruit and algae extracts and a blend of nourishing oils to contribute towards the reducing the appearance of stretch marks caused by pregnancy and weight change, whilst also providing key nutrients the body needs to maintain skin elasticity. Safe for use during pregnancy and nursing. E.N. Free from parabens, petrolatum, colorants, xenoestrogens, PEGs and phthalates. We are committed to ensuring all of our products are cruelty free. This product is also vegan.
Apply a thin layer three times a day over each stretch mark. Use for 12 weeks. If breast-feeding, avoid the nipple area.
Recommended Retail Price €50.86
Mio Skincare is a global supplier based in the USA. Prices quoted on Shops in Ireland are converted from USD in to Euros at the current ECB excange rates, therefore, prices on the Mio Skincare website may vary slightly due to the exchange rate used by them.
EAN: 5060102602552
Matched Items