Price search results for Mama Mio Gorgeous Glow 3 Step Set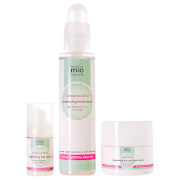 Mama Mio Gorgeous Glow 3-Step Set
€

Subscribe
Keep up a good skincare routine during your pregnancy. The Gorgeous Glow 3-Step Set from Mama Mio ensures expecting moms get the best...read more
Keep up a good skincare routine during your pregnancy. The Gorgeous Glow 3-Step Set from Mama Mio ensures expecting moms get the best facial treatment for the whole nine months, and beyond. The Set Contains: Gorgeous Glow Balancing Facial Wash (5 fl. oz) This foaming face wash combines tea tree oil with green tea leaf extract to counteract skin dryness during pregnancy. Its luxurious formula contributes towards maintaining your skin's natural health and beauty, whilst its blend of natural, coconut-derived cleansers soften skin for maximized radiance. Suitable for all skin types. Gorgeous Glow Brightening Eye Serum (0.5 fl. oz) Reduce the appearance of dark circles and signs of tired eyes. Perfect for expecting moms, the super-serum combines a powerful blend of peptides and actives to reduce the appearance of dark circles, expertly brightening and hydrating to leave peepers looking bright-eyed and bushy-tailed. Deeply moisturizing, hyaluronic acid and organic aloe vera leaf juice work in tandem to help hydrate the delicate eye area. Gorgeous Glow Brightening Day and Night Cream (1.7 fl. oz) A day and night cream dedicated to moisturising pregnant complexions. Rich in omegas, antioxidants and pregnancy-safe lactic acid, its creamy formula intensely hydrates skin whilst gently exfoliating to slough away dead skin cells to provide you with a brighter complexion. Skin feels smooth and fortified. We are committed to ensuring all of our products are cruelty free. This product is also vegan.
Face Wash: Apply with a little water, massage into face paying special attention to T-zone. Rinse well and pat dry. Eye Serum: Apply a small drop to each ring finger. Gently smooth under eyes and make feather-light circles around entire eye area, 10 x clockwise, 10 x anti-clockwise. Day and Night Cream: Apply sparingly to clean, damp skin - less is more.
Recommended Retail Price €53.40
Mio Skincare is a global supplier based in the USA. Prices quoted on Shops in Ireland are converted from USD in to Euros at the current ECB excange rates, therefore, prices on the Mio Skincare website may vary slightly due to the exchange rate used by them.
EAN: 5060102603085
Matched Items