Price search results for Mama Mio Gorgeous Glow Facial Swipes 30 Swipes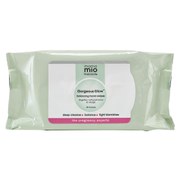 Mama Mio Gorgeous Glow Facial Swipes (30 Swipes)
€

Subscribe
Safe for expecting mums, the Gorgeous Glow Facial Swipes from Mama Mio gently eliminate dirt, make-up and impurities, without stripping...read more
Safe for expecting mums, the Gorgeous Glow Facial Swipes from Mama Mio gently eliminate dirt, make-up and impurities, without stripping moisture or leaving skin dry. Ideal for tired complexions, the face wipes are infused with coconut-derived cleansers and tea tree oil, whilst green tea leaf contains antioxidants which are believed to help prevent free radical damage that can lead to dullness. Vitamin-rich sweet almond, avocado and olive oils work to hydrate skin. Soap-free and kind to skin, you can experience a refreshed, rebalanced complexion and healthy-looking glow. E.N. Free from parabens, petrolatum, colorants, xenoestrogens, PEGs, phthalates and glycols. Biodegradable.
Use one wipe to cleanse the entire face and neck.
Recommended Retail Price €14.26
Mio Skincare is a global supplier based in the USA. Prices quoted on Shops in Ireland are converted from USD in to Euros at the current ECB excange rates, therefore, prices on the Mio Skincare website may vary slightly due to the exchange rate used by them.
EAN: 5060102603023
Matched Items