Price search results for Mama Mio Gorgeous Glow Facial Wash 100ml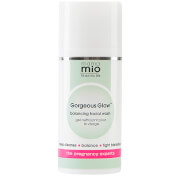 Mama Mio Gorgeous Glow Facial Wash (100ml)
€

Subscribe
Achieve a brighter, purified complexion with the Gorgeous Glow Facial Wash from Mama Mio. The foaming face wash combines tea tree oil...read more
Achieve a brighter, purified complexion with the Gorgeous Glow Facial Wash from Mama Mio. The foaming face wash combines tea tree oil with green tea leaf extract to counteract skin dryness during pregnancy. Its luxurious formula contributes towards maintaining your skin's natural health and beauty, whilst its blend of natural, coconut-derived cleansers soften and soothe skin for maximized radiance. Suitable for all skin types. - K.N. free from parabens, petrolatum, colourants, xenoestrogens, PEGs, phthalates and glycols. We are committed to ensuring all of our products are cruelty free. This product is also vegan.
Massage a small amount into face, rinse well and pat dry.
Recommended Retail Price €29.67
Mio Skincare is a global supplier based in the USA. Prices quoted on Shops in Ireland are converted from USD in to Euros at the current ECB excange rates, therefore, prices on the Mio Skincare website may vary slightly due to the exchange rate used by them.
EAN: 5060102603016
Matched Items