Price search results for Mama Mio Keep Calm Nipple Balm 30ml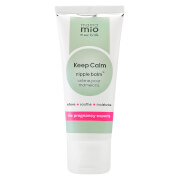 Mama Mio Keep Calm Nipple Balm (30ml)
€

Subscribe
Safe for new and expecting mums and their babies, the Keep Calm Nipple Balm from Mama Mio helps to provide nipples with long-lasting...read more
€13.56
€14.40
Safe for new and expecting mums and their babies, the Keep Calm Nipple Balm from Mama Mio helps to provide nipples with long-lasting comfort. The conditioning balm is enriched with nourishing Medical Grade Lanolin, known for its soothing properties. No need to remove before breastfeeding, its formula is infused with organic coconut and olive oils to replenish moisture and strengthen delicate skin caused by the sucking power of your little one, whilst organic shea butter leaves skin feeling hydrated. Suitable for use on lips, elbows, cuticles and other dry skin, the versatile balm is a handbag essential. E.N. Free from parabens, petrolatum, colorants, xenoestrogens, PEGs, phthalates and glycols.
Apply to nipples as required.
Recommended Retail Price €13.56
Mio Skincare is a global supplier based in the USA. Prices quoted on Shops in Ireland are converted from USD in to Euros at the current ECB excange rates, therefore, prices on the Mio Skincare website may vary slightly due to the exchange rate used by them.
EAN: 5060102602569
Matched Items