Price search results for Mama Mio Limited Edition Tummy Rub Butter Ginger and Lime 120g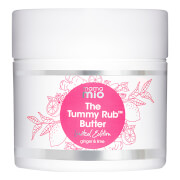 Mama Mio Limited Edition Tummy Rub Butter Ginger and Lime (120g)
€

Subscribe
Our award-winning Tummy Rub Butter is responsible for happy tummies all over the world and now comes in a NEW Limited Edition Ginger...read more
Our award-winning Tummy Rub Butter is responsible for happy tummies all over the world and now comes in a NEW Limited Edition Ginger and Lime scent. With the same incredible formula as our original Tummy Rub Butter, it's chock full of super-elasticising Omega-packed organic oils in an organic Shea Butter base to help protect your tummy (and boobs, hips and thighs) from pregnancy stretch marks. Give your skin super strength and elasticity to fight itchy tummies and unwanted stretch marks during your 9 month s-t-r-e-t-c-h. With an initial top note of citrus lime, followed by a warming ginger twist, this scent has been inspired by the time tested use of ginger to ease morning sickness. NEW refreshing and uplifting citrus and ginger scent. Maximum protection to help prevent stretch marks and itchy tummies. Helps your body bounce to its former glory. Safe during pregnancy and nursing. How it works Our Tummy Rub Butter is primarily designed for one thing: increasing skin elasticity. You're gonna grow, you're gonna shrink and your secret weapon in the fight against stretch marks is the continual and plentiful use of Omega 3, 6 and 9 to help build your skin's strength and elasticity. If skincare safety is your concern, you are in safe hands with mama mio. We've made all our formulas even cleaner and safer, with our evolved No Nasties policy. mama mio is free from parabens, petrolatum, colourants, xenoestrogens, PEGs and pthalates. Key Ingredients: Ginger and Lime 100% Natural Fragrance - A refreshing, uplifting citrus aromatic scent that actively soothes the skin. Top note of citrus lime, followed by a warming ginger twist Organic Shea Butter - Provides a protective barrier to lock in moisture and helps build elasticity. Organic Sacha Inchi Oil - Derived from the Amazon rainforest and packed with Omega 3, antioxidants and amino acids. Organic Argan Oil - Nourishes, moisturizes and improves elasticity. High in Omega 9 and 6. Organic Coconut Oil - Soothing, super-rich with Lauric Acid - powerful Omega. Organic Avocado Oil - Packed with Omegas and Folic Acid, hydrates and helps skin to stretch safely. Organic Sweet Almond Oil and Organic Olive Oil - Ideal for sensitive skin, soothes and protects, gives wonderful Omega-rich moisture. Organic Rosehip Fruit Oil - Rich in Omega 3 and 6 and Vitamin C. Vitamin E - Helps protect against stretch marks by keeping the skin moisturized and repairing collagen damage. We are committed to ensuring all of our products are cruelty free. This product is also vegan.
Apply twice daily from above your boobs to below your bum, front, back and sides. Keep rubbing for at least four months after baby has arrived on the scene.
Recommended Retail Price €30.52
Mio Skincare is a global supplier based in the USA. Prices quoted on Shops in Ireland are converted from USD in to Euros at the current ECB excange rates, therefore, prices on the Mio Skincare website may vary slightly due to the exchange rate used by them.
EAN: 5060102602583
Matched Items