Price search results for Mama Mio Mamas Day Gift Set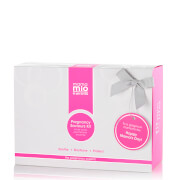 Mama Mio Mama's Day Gift Set
€

Subscribe
Pamper a loved one with the Mama Mio Mama's Day Gift Set; a gorgeous selection of the brand's must-have pregnancy saviours, perfect...read more
Pamper a loved one with the Mama Mio Mama's Day Gift Set; a gorgeous selection of the brand's must-have pregnancy saviours, perfect for any mama-to-be this Mother's Day. Boasting award-winning, chemical-free formulas, the skincare treats work in tandem to leave skin feeling soft and supple, helping to soothe away any aches, pains and stress for a more comfortable and happy pregnancy. Safe for use during pregnancy and breastfeeding. Free from parabens, petrolatum, colourants, xenoestrogens, PEGs, glycols and pthalates. The Set Contains: The Tummy Rub Butter (120g) The Tummy Rub Butter is an award-winning formula that works to improve skin elasticity to help prevent stretch marks when your bump grows. Delivering maximum protection, it combines omega-rich Organic Oils (Argan, Coconut and Avocado) with Shea Butter to protect your tummy, boobs, hips and thighs from stretch marks and itching. Rich in antioxidant Vitamin E and Omega 3, 6 and 9 to help build skin's strength and elasticity, it seeks to keep skin hydrated for safe stretching. The Pregnancy Boob Tube Bust Protection Cream (100ml) The Pregnancy Boob Tube Bust Protection Cream seeks to improve the appearance of the bust area. Harnessing the powers of antioxidant-rich CoQ10 and Milk Thistle, the lightweight cream strengthens and protects delicate skin, whilst Organic Rosehip Fruit Oil moisturises and hydrates. Ideal for those experiencing cup size changes, engorgement and discomfort, its unique blend of Green Cabbage Leaf Extract and Hibiscus works to reduce swelling and improve elasticity for a smoother, firmer-looking décolleté and bust area. Lucky Legs Cooling Leg Gel (30ml) A refreshing and relieving formula that works to instantly comfort and revive tired, weary legs. During pregnancy, your body carries a third more blood round your system; this, paired with water retention and carrying a baby can really take its toll on your legs and feet. To help relieve your aches and pains, the cooling gel formula combines stimulating essential oils with Ginger Root and Murumuru Seed Butter to invigorate and hydrate, whilst Menthol and Chamomile ease muscle discomfort. Liquid Yoga Space Spray (50ml) Alleviate feelings of stress and anxiety with the Liquid Yoga Space Spray; high intensity bodycare in a bottle. This essential oil-infused mist blends lavender and lavandin to promote a calming, stress-relieving experience. Enhancing positive emotions with a complex of cypress, chamomile and lemon, the spray helps tackle anxiety and nervous fatigue whilst uplifting the spirit, boosting self-esteem and promoting true well-being.
Butter: Use a generous amount and rub on twice daily, from above your boobs to below your butt – front, back and sides. Cream: Use 1-2 pumps and apply from below boobs up to neck daily throughout pregnancy and for the first 6 months as a new mum. Gel: Apply one or two pumps from tippy toes to knees for a blast of instant and intense refreshment. This mini-spa treatment has both instant and cumulative benefits so do treat your legs with the love they really deserve. Spray: Drift into your bedroom; spritz your pillow and pulse points with Liquid Yoga Space Spray to experience a peaceful Zen vibe and own your mellow space.
Recommended Retail Price €57.48
Mio Skincare is a global supplier based in the USA. Prices quoted on Shops in Ireland are converted from USD in to Euros at the current ECB excange rates, therefore, prices on the Mio Skincare website may vary slightly due to the exchange rate used by them.
EAN: 5060102602088
Matched Items